JIMI X ELSAMARIT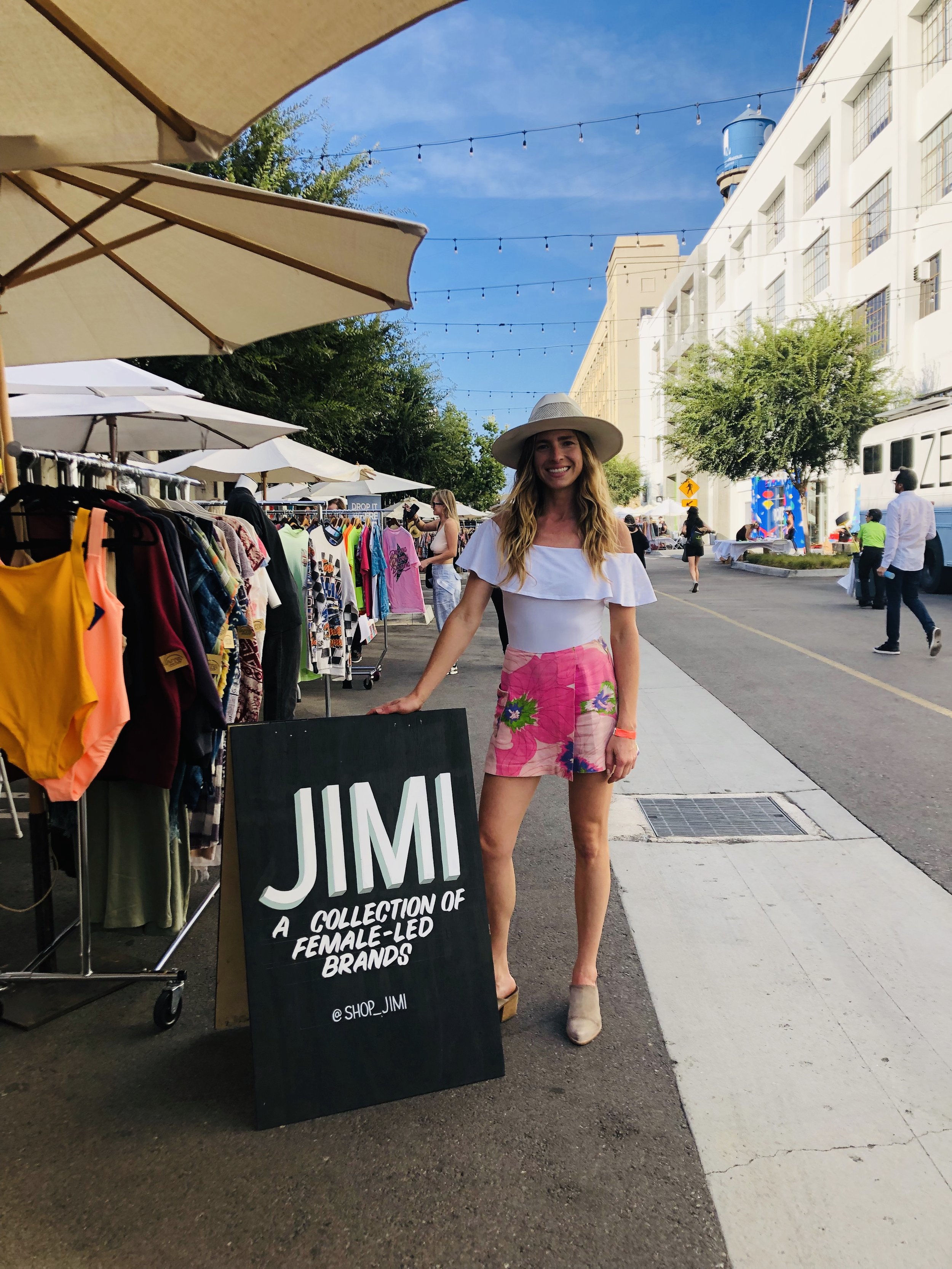 A spotlight on a business and it's founder for making a difference in the way we shop
I heard about JIMI on Instagram and had to reach out to see how we could partner as it felt like JIMI's ethos resonated with all things ELSAMARIT. Ashley, the founder, is beyond amazing and it's been wonderful chatting to her about how she is growing her business and creating something of meaning. EM is so honored to be a part of JIMI and all that it stands for. You can now order ELSAMARIT products at JIMI! So much love for Ashley as she's an inspiration to us all, read below for more:
I LOVE JIMI and EM is so honored to be apart of this great idea! What was the inspiration behind JIMI?
JIMI was born out of my belief that in the American capitalist/consumer economy, the most efficient way to create a change is through social enterprise — a business that has a positive social impact at the core of everything they do. I wanted to create a vehicle for change that meets people where they are and makes it easier for them to make conscious choices as a consumer.
What does JIMI stand for?
JIMI was my grandmother's name. She made a living as an oil painter in Detroit circa the 1970s. She's part muse/inspiration for the project. Also, JIMI is a badass genderless name.
Why do you think it's important to celebrate female-founded businesses?
To be honest with you, the original desire to focus on female-founded brands came out of my own personal healing journey. I was looking to transmute pain into something positive. I don't have a relationship with my mother or any of the matriarchs in my family and I wanted to get more in touch with my femininity and connect to a sisterhood. I set out to create this because I didn't find what I was looking for. Now, I've healed that part of me and found my tribe. With everything going on in the world right now, I've decided that rather than just focusing on female-led brands, it's more important for me to share a pure, positive message of inclusion and connection/community (not separateness).
I think it's important to create conscious relationships and honor each other. That being said, we've recently shifted our offering to focus on inclusion; offering any brand that meets our quality, aesthetic, and value standards.
Who's your fav business icon and why?
Miki & Radha Agrawal. I admire their authenticity and commitment to "LIT" lives. You may know them from their period friendly underwear brand called THINX or from Radha's morning dance party Daybreaker. They are my favorites because they are disrupting taboo categories and are making conscious partnership & conscious business cutting edge and cool.
What advice can you give to people who are just getting their idea or business started?
Meditate every day. Commit to your vision and trust that every change that happens on your path is pushing you to learn and grow, preparing you to step into the future reality that is already real because you imagined it!
What's next for JIMI?
We're actually shifting from being focused to just-female led brands to expand to a more inclusive model that highlights any rad brand that has positive social change and sustainability in their business DNA. It's about humans that are transmuting negativity into positive change and it's about community. We're all in this together, so we want to be mindful in bringing people together instead of separating us.
Since we're all about self and soul care here at EM, what does self-care mean to you? How do you practice self and soul care?
Self-care to me means taking radical ownership over every area of my life and listening to my intuition. It means staying attuned to my heart and saying no to what doesn't feel good. It means honoring my commitments to myself out of love. The more that I take the right action, the better I feel, and the better choices I make for my future self. Morning & night routine is key for me. I set aside time to start my day with meditation, prayer, a reading of something positive, and a gratitude list that I share with two accountability partners. In the evening I check in with another accountability partner and share about my meditation practice & insights from the day.
Fav EM product and why?
High Vibes candle. Every day I set the intention to do self-care activities that raise my vibe. I aim to speak with positive energy and share positive energy with the world. This candle fills my space with that high-vibe energy that I want to take into every area of my life.
Love this! Check out everything that Ashley is up to with JIMI at jimiusa.com and on IG @shop_jimi
You heard it from her, its all about that high vibe energy life!
Here's Ashley's fav candle, 'High Vibes'